From Love, with Passion! hosted by pitchblackwolf.
Exocores were allowed.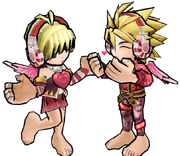 This month's theme will be "Love", in honor of Valentine's Day! Dress up with your soul mate, best friend, or family member, and show off your sense of Love and partnership! Show the community your passion for fashion and be exalted, and hailed as the Fairest couples of Rumble Fighter!